EDQM grants the CEP to Mianserin Hydrochloride API
One of the critical values of Lebsa is to provide regulatory support and keep updated our partners and clients about it. We are pleased to announce that we have received a new CEP from the European Directorate for the Quality Medicines (EDQM) on Dec 6th of 2021. In this case, it is for the API Mianserin Hydrochloride.
LEBSA Mianserin Hydrochloride API guarantees compliance with the strictest regulations in the world. For this reason, is why LEBSA has become your secure Mianserin Hydrochloride API manufacturer worldwide. We ensure a robust manufacturing process with total control of the supply chain, data integrity, and traceability, including quality and safety European standards at a fair price.
With this CEP certificate, we reinforce our regulatory experience, focusing on the compromise we have with our clients. Furthermore, having this certificate facilitates the registry and update processes of MAH.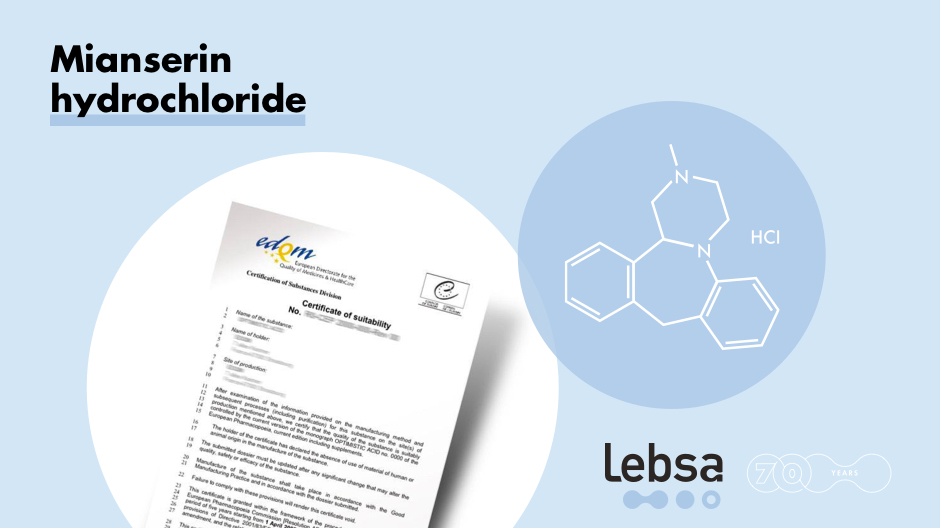 What is CEP?
The acronym CEP belongs to "Certificate of Suitability to the monograph of the European Pharmacopoeia." This certificate guarantees that the quality of the substance suits the actual requirements and high-quality standards established by the European Pharmacopoeia monograph and guidelines.
We are delighted to have received the Mianserin Hydrochloride's CEP. Apart from meeting quality and safety standards, this certificate can be used to approve the Mianserin Hydrochloride in the Marketing Authorization Application or variations made by the Marketing Authorization Holder.
If you want to know more about it, do not hesitate to contact us.