Mianserin Hydrochloride, a new API coming to Lebsa portfolio
In LEBSA, we're happy to introduce a new API coming to our portfolio: Mianserin hydrochloride
(CAS 21535 – 47 – 7), an antidepressant drug.
If you're not sure about what it is or why it's good news, stay with us for a few minutes, and we will let you know.
What is Mianserin?
Mianserin hydrochloride, is an oral antidepressant drug. It belongs to a group of compounds known as piperazine-azepine, and it is an atypical antidepressant. Related with depression, it could also help for the insomia.
Mianserin hydrochloride is not related to tricyclic antidepressants because it doesn't have the side chain that provides anticholinergic activity in this group. Instead, Mianserin hydrochloride mechanism of action relies on inhibiting norepinephrine uptake and blocking alpha-2 receptors. It also has interactions with serotonin receptors in the brain.
Thus, it activates the antidepressant action through a double pathway and has an additional calming effect on the central nervous system.
Mianserin hydrochloride is a prescription drug and should only be used under the recommendation and supervision of a healthcare provider.
Why LEBSA?
We're introducing this new API to our portfolio and feel confident that our clients will trust once again in our scientific rigor and top-notch quality.
LEBSA is a manufacturer of active pharmaceutical ingredients with very high quality standards. Mianserin hydrochloride is a European made product manufactured in Lebsa's GMP plant, sited in Barcelona, Spain. A large Route of Synthesis, allows us to keep a full control in the manufacturing process, quality and supply chain.
As such, LEBSA is a reliable source of this API, as it has been with many others that we produce. Thus, Lebsa's supply chain guarantees Mianserin hydrochloride stock.
Our company offers Mianserin Hydrochloride with high purity levels. It is in rigorous compliance with the European Pharmacopoeia and free of Nitrosamines. Mianserin hydrochloride by LEBSA has a valid CEP granted by EDQM. We go one step forward in this regard to facilitate the registration process for our clients.
Stability data of Mianserin hydrochloride under ICH Zone II and IVb is available. PSD information is available upon client requirement. You only need to contact us and communicate your needs to our expert team.
Are you looking for a new source of Mianserin hydrochloride? We have GMP samples for R&D ready for delivery!
Contact us here to learn more.
Product Information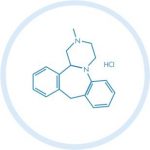 Chemical Abstracts Service (CAS) Registry Number (RN)
21535 – 47 – 7
Recommended International Non-proprietary Name (Rec INN)
Mianserin hydrochloride
Systematic Chemical Name (IUPAC)
(14bRS)-2-Methyl-1,2,3,4,10,14b-hexahydrodibenzo[c,f]pyrazino[1,2-a]azepine hydrochloride
Molecular Formula
C18H20N2 HCl
Relative Molecular Mass
300.8
Therapeutic category
Antidepressant
Available formulations
Solid